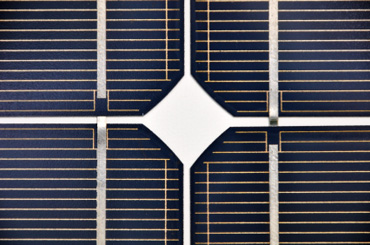 Silicon may be one of the most abundant elements on earth but is generally only found in its oxidised state, as silica sand and related minerals. To create monocrystalline photovoltaic cells, this silicon oxide must be stripped of oxygen, purified of most trace elements and then grown into a crystal. Depending on how the crystal is made, high-purity silicon is sold as monocrystalline, polycrystalline or amorphous. Although each can be used in solar cells, monocrystalline has the greatest energy conversion efficiency around 15 to 20 per cent, but is also much more challenging and expensive to produce than the others.
Fabrication of monocrystalline photovoltaic cells
Silicon used for monocrystalline photovoltaic cells is required to be prepared similarly to silicon for semi-conductor components. In fact, monocrystalline photovoltaic cells for many years were mainly made from silicon wafers that had been rejected due to impurities, which made them unsuitable for use in electronics. Due to operational tolerances, the silicon for monocrystalline photovoltaic cells can be less pure than in more electrically demanding integrated circuits.
However, monocrystalline photovoltaic cells still start their life much like microchips, with a large cylinder of monocrystalline silicon, called a "boule", grown from a small monocrystalline seed. Although several techniques have been developed for producing the boule, generally speaking it involves introducing the seed to purified molten silicon and then slowly drawing it out so that the crystallizing molten silicon assembles in the same continuous crystalline structure as the base seed. This boule is then sliced into wafers, electrical contacts applied and then left as is or optionally cut again into smaller chips to make individual monocrystalline photovoltaic cells.